---
Dishwasher Leak Pan

---
Dishwasher leaks damage more wood floors



than even icemakers, in my experience. A dishwasher leak pan is the answer.
Quick Links


Down this very long page



You can choose between partial pans that don't require removal of your dishwasher,
and complete pans that do. 
We only recommend a complete pan that comes out
from the back wall 20 3/8" and covers the full width of the appliance space, which is 24".
Even then, you have choices.  We offer the basic Dwip Pan and the bonus Dwip Pan.

Both the Basic and Bonus Dwip Pans are:
Unbreakable in our testing, three-sided, and ribbed.

UL

94 V

compliant for flame-resistance.
Safety-tested for Lead, PBB, and PBDE.
MADE in the USA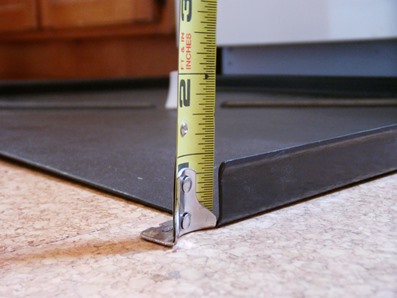 The back and sides are 3/4" in height.

The Dwip Pan ribbing is 1/4" in height.  It forms the letter X, so to speak, with an open field in the center of the pan.
Each rear ray of the X is 9" in length, leaving 4" between it and the pan's edges.
Each forward ray is 11", leaving only 2" between it and the pan's edges and front opening.
The WATER ALARM shown is NOT INCLUDED with the Dwip Pan, nor is it a brand recommendation.  
IT IS SHOWN FOR ILLUSTRATIVE PURPOSES, ONLY.  
Let's go through the install, shall we?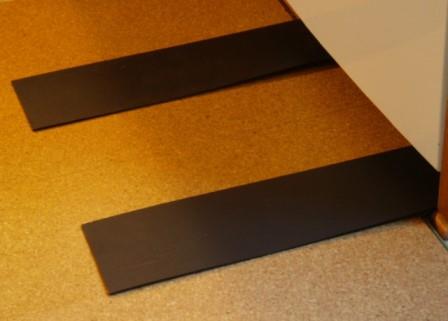 1. Protect the existing floor


no matter what pan you choose. 
Every individual BONUS pan we sell comes with two rigid high density plastic runners, 1/8" thick, for starters.  They are not included with the BASIC pan, however.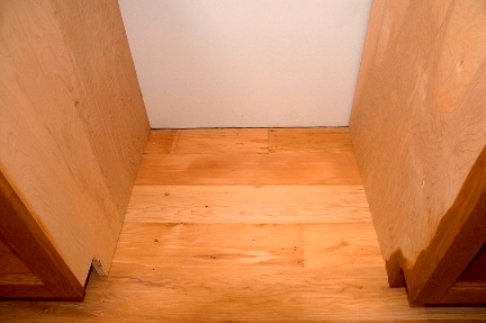 2. Remove dishwasher

and

3. Inspect


the appliance space for level, taking note of any peaks or valleys.
It is very common for the floor to fall away toward the wall. This is particularly common when the dishwasher is located on an interior wall.
Your dishwasher leak pan will only be as level as the floor it's going over.

4. Level


with anything that will last.  Felt chair pads are a handy way to shim the backside of the pan, initially, but may compress with time, as well as hold moisture.
You may even decide to pitch your pan forward, or just from the back corners.
You are the engineer on site. You make the call as to placement.
Helpful Hint: 
Already have floor protection?  Then, feel free to use the included FloorSkydds as shims under the pan to level, as needed.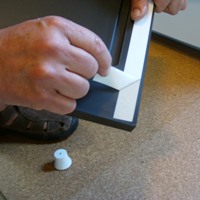 5. Peel off adhesive back from the strip
(This feature is exclusive to the Bonus Pan.)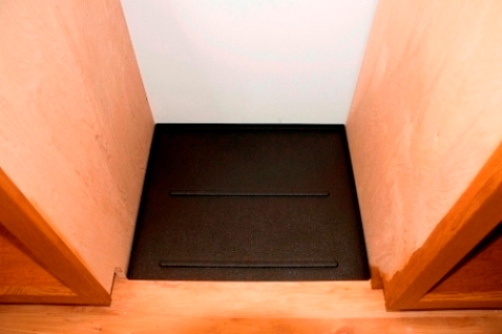 6. Place the pan.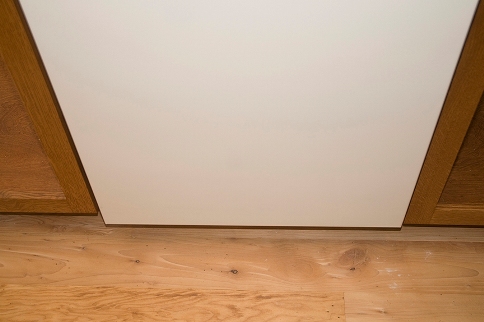 7. Replace the dishwasher.


We used to include a battery-operated water leak detector in the leak pans we sold, but no longer.
For a battery-operated alarm, we now recommend you purchase either the SmartHome MT400
, or the

Gizmode GIWA02
, which is also battery-operated, but can be "daisy-chained."

That is to say, the sounder unit can be placed under your sink as one detector, and can also be wired to a remote Gizmode GISP01 Remote Sensor Pad
under your dishwasher,

effectively protecting two water problem sources with one alarm.

(I do believe those two Gizmode items are sold separately, so have a care when ordering.)
In the following short video, I review a few of the considerations in choosing a battery-operated detector, 
if a battery-operated detector is sufficient for your purposes.  
The units I compare, as examples, (only to illustrate, mind you,) are:

-The original 9V Gizmode
, (taller than the new Gizmode GIWA02)

-The Flood Buzz
, (which I refer to as the "Tinkerbell")

-The MT400
, by SmartHome.
Single Pan Pricing

$34.99/plus S & H


Single Basic Pan
No Adhesive Strip 
No FloorSkydds

Made in the USA

$44.99/plus S & H


Single Bonus Pan
PLUS Adhesive Strip 
PLUS Two FloorSkydds

Made in the USA
Helpful Hint:

Thinking of hiring a Floorwright? He can bring the item, directly, when providing any service and SAVE YOU THE SHIPPING COST!
The leaks can be insidiously small and slow and damage your wood floor over time.

Or, they can be catastrophic failures resulting in floods, some of which can't even be explained.
Please consult a plumber and/or a reputable appliance store.  Some dishwashers now come with built in drip pans.  Those are a great idea, but
only protect you from an internal leak.  I would say most dishwasher leaks I see involve a water supply or the drain, not the machine, itself.

---
How to Use Your FloorSkydds 

As you will see in this video, FloorSkydds are a pair of 1/8" rigid, recycled plastic strips included with your single BONUS pan purchase.  Sorry, but if you are ordering pans for your building association in bulk,
FloorSkydds are sold separately when ordering dishwasher leak pans in bulk.
Return to the Top of Dishwasher Leak Pan
Return to Hardwood Floor Water Damage
Closing in on 400,000 Views!
Absolutely, no charge to subscribe.
This rough footage of Head's Up & How To's is intended for future Floorwright apprenticeship training materials and you are most welcome to have a preview.
Made possible, in part, by: