---
Find the local floor guy
of
your dreams!

---
Life's a Dance. You Need a Floor! Find THE local floor guy of your dreams with my FREE e book

The Wood Floor Guy-ed to Finding Mr. Right.

Guaranteed to be BETTER THAN FREE because inside
each and every book is a MONEY SAVING COUPON for

15% OFF membership in America's leading Homeowner Referral Network
Angie's List!
Step by step, My Online Wood Floor Guy-ed and Angie make the most of your internet connection to filter and find the
UN-advertised
word-of-mouth
referral-only
local

floor guy your wood floor needs for its longest life.
Testimonial
---
I have been looking for an unbiased and well documented article on choosing a Hardwood Floor Technician. As we say here in the south…"Yours takes the cake!".
Written for the home-owner it is educational, easy-reading, technically competent. GL Brown, All Things Wood, Salem, NC
---
Discover How to Get Results and Save Time
as you...

Enjoy the natural absence of mis-communication.

Experience the security that comes with actually knowing the person in your home.
Expect the peace of mind from knowing your satisfaction is his only advertising.


AND THEN USE THE LIST FOR ALL YOUR SERVICE NEEDS: VETS, DENTISTS, APPLIANCE REPAIR, MASSAGE THERAPISTS.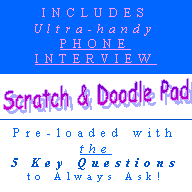 Prefer another network? That's fine.
My book is optimized for Angie's List, but works with any online referral network because
it includes my EXCLUSIVE phone interview scratch and doodle pad with the five questions to ask a local floor guy
No matter WHERE you ask them.
JUST FILL IN THE BLANKS!
So, Act Now!

And, AS A SPECIAL BONUS, you'll get the monthly newsletter, Floorwrights, Local News, featuring:

the latest DISCOUNTS and COUPONS FROM OUR ADVERTISERS

the latest TESTIMONIALS from hardwood floor owners

the latest YOUTUBE Floorwright HOW TO VIDEO

the latest CONTEST information

the latest TEST RESULTS from The Floorwright's Lab

the latest website CONTENT

IT'S FREE, TOO! And it's where I want to hear from you when you want to brag on your floor guy. Of course, you can unsubscribe with a click, but rest assured the privacy policy of The Wood Floor Conservancy is for real.
It's SO Simple!

Just filll in the very short form below.

For your security, I will send you an e-mail asking you to confirm you, indeed, want the book and trial newsletter.

Simply click on the link in that e-mail and you'll receive the link to My Online Wood Floor Guy-ed to Finding Mr. Right!

I hope you enjoy reading it as much as I enjoyed writing it.

Remember, if your life's a dance...You'll need a floor.

and a guy! Get Guy-ed Here!

Return to the Top of Local Floor Guy

Made possible, in part, by: