---
Apprenticeship
Protects
Wood Floors
---
(but makes you really boring at parties.)


The Floorwrights, Local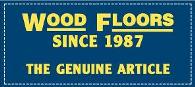 Look for the Journeyman's Label
Apprenticeship means real wood floor protection because it's going to take peculiar skill and good judgement to see every wood floor to its longest life.
Apprentice at The Conservancy's School of Lower Learning and it also means you join The Floorwrights, Local...upon completion, that is.
By that time you will be used to hearing,
"Does he ever look up?"
"Yes," will be the reply, "just not above the outlets."
But it won't be that winsome attribute or even your engaging knowlege of wood science and protection that will make you odd.
What will really mystify folks is that you love your work. So you wouldn't dream of someone else doing it for you. Odd.
Full-time. Sore back. Rough hands. You wouldn't have it any other way. Very odd.
And year-round, too. You won't be a school teacher who does wood floors in the summer. You won't be a cement guy who does wood floors in the winter.
Also, you will install AND finish wood floors. (The Director's emphasis.) That, too, is an oddity in this pre-finished world.
Oh, and by the way, Floorwrights are referral-only.
That's right.
So what are the "longest-life" fundamentals Floorwrights bring to wood floor protection?
Journeymen Floorwrights demonstrate aptitude and competence to:
• Meter & audit jobsite conditions
• Remove & replace single boards
• Level subfloors
• Apply Preservation Brand Coatings
• Net fit transitions/thresholds
• Retack carpet
• Contain dust
• Safely deliver natural product
• Design & specify in floor heat
• Routinely maintain floors
• Install/finish/refinish treads & risers
• Install/finish base trim
• Mix & match ShadeMaker Brand custom stains
• Select proper template, flush bit, and plunge router for inlay
• Cut & install metal inlay
• Identify wood species
• Source sustainably
• Center & optimize floor vent efficiency
• Repair/replace inadequate subfloor
• Stagger new flooring into existing
• Harvest & salvage old flooring
• Mill & join new flooring
How does someone become a Floorwright?
First and always, Take The No, Not One Pledge.
"Not another good tree lost to bad flooring. Not another good floor gone bad. Not to poor workmanship or bad information. No, not one!"
Verify no less than 3 years of full-time floor joinery and finishing.
Three year apprenticeships under the supervision of a Journeyman Floorwright are available.
Why would someone want to be a Floorwright?
How about owning your own business and the business comes to you.
You are independent, but not alone.
Apprenticeship provides real-world, trade-specific, on-the-job training. No lost wages to schooling that may or may not be relevant to the work you want to do!
Professional affiliations provide credibility for the day your name is taken off the apprenticeship roll and placed on the journeyman's list at the Local.
Residential and commercial work.
Commissions for ShadeMaker flooring and finish sales.
As a pledged licensee of The Wood Floor Conservancy, you can offer :
delivery and jobsite audits, as well as electronic documentation and archiving of all product/service/and warrantee information for the owner.
limited lifetime warrantees on your own work, flooring construction, and finish. That is a Preservation Brand Floor™, the official brand of The Wood Floor Conservancy.
Why would someone want to hire a Floorwright? • Floorwrights hardly look up. • Floorwrights have taken the pledge. • Floorwrights have every tool every time. • Floorwrights remember their floors. • Floorwrights guarantee their work. • Floorwrights pay it forward. • Floorwrights vacuum their vacuums.
Floorwright Certification stands for more than membership...more than just a Certificate. It is The Wood Floor Conservancy's third party Certification that represents excellence and ethics in wood flooring. A Wood Floor Conservancy accredited training program is the only industry Training and Certification dedicated to the longest life of your wood floor. Floorwright Certification Training programs are considered the "Gold Standard." The Wood Floor Conservancy does not accredit Certificate programs that do not meet professional education, content or testing guidelines.
Individuals that earn Floorwright certification become part of a professional Registry and enjoy "All in One" business, web and professional support.
All Floorwrights become part of The Floorwrights, Local at www.woodfloorsforever.org and gain exposure on the Conservancy's website and through newsletter, press and national partnerships.
*Must meet eligibility, exam, security screening and insurance requirements.
Return to The Top of Apprenticeship Means Wood Floor Protection
 Return to Hardwood Floor Protection
Made possible, in part, by: