Real Wood Floors in Our Care
Dear Membership and lovers of wood floors,
Whether you've recently discovered us, or have been visiting the site for years, we're glad you're here and hope that it educates, motivates, and in the end,
saves your wood floor and wallet from unnecessary waste.
Thank you for propagating Trees, Talent, and Testing with your participation.
I'm writing to explain a new and important feature you've undoubtedly noticed:
we promote products and services with advertisements
throughout the site that are germane to floor ownership or conservation or common sense or all three.
If you're a long-time user of www.woodfloorsforever.org, this may seem like a big change.
In past years, this site has been ad-free, supported only by donations, (mine). So you may be wondering, why ads now?
As Director, I have always emphasized field testing of flooring and protection products.
The real world performance of anything is what time always tells.
---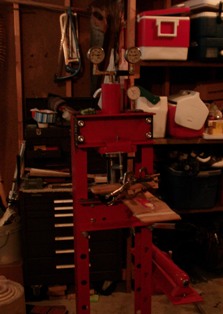 Nonetheless, new and much needed controlled testing is on its way.
Like everything else about The Conservancy, this testing is original, born from years of experience behind a noisy floor machine of some kind.
The equipment is nearly completed and currently housed in a secret location.
Despite appearances, that "secret location" is not Red Green's garage.
I am looking for a permanent lab location, preferably a bomb shelter, and that is all the people need to know.
Consequently, this industry-changing test will require much more money. I now consider advertising to be the single most effective and efficient tool The Conservancy can offer
because it equips you with best of breed floor protection products and services, while SIMULTANEOUSLY funding ongoing testing, both in the field and in the new lab.
And that means...
EVEN MORE EFFECTIVE FLOOR PROTECTION IN THE FUTURE.
---
My decision to begin advertising was not made lightly. And of course, it's critical that any advertising reflects all of our values and does not conflict with our mission. That means that I carefully screen the ads that appear on the site.
I also take your feedback about ads--positive or negative--very seriously. If you spot an ad that you consider problematic for any reason, I am listening. As Director, I want the ads to complement the site, offering you relevant and valuable services and offers.
I am very aware of the trust you place in The Conservancy, and I want to protect that trust carefully.
May your membership always be verified, not by dues, but by due diligence!
Please continue to shop here and patronize the businesses you find in the ads. Tell others! It's so easy online, these days. Remember word of mouth helps us all, because...
"If we always have the Timber, if we always have the Tradesmen, if we always have the Testing, we will always have wood floors!
Here's to the longest life of yours,
Jerry Adamsson, Director

---
Return to Wood Floor Protection from Wood Floors