Natural Wood Floor
"We want a natural wood floor," you say.
So the salesman writes down "natural" on the job order:
"Refinish wood floors natural," it reads.
What you mean by natural is you don't want a polyurethane coating, rather an oil.
But to the floor guy or gal, "natural" simply means "no stain" under the polyurethane coating they use to refinish wood floors.
So, which of these two "naturals" do you prefer on
Hand-Scraped American Walnut? Or...
White Oak? Or...
Maple? Or...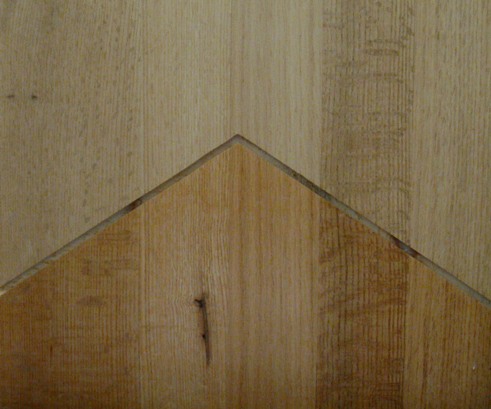 Red Oak? Or...
American Cherry (left) Sapele (right)? Or...
Australean Cypress (left) or Eucalyptus (right)?
For all of the above, Wearmax Universal Sealer, (40 VOC g/l) achieved the color above the inverted V.
WearMax Hydroil, (190 VOC g/l) and then Universal Sealer, achieved the color below the inverted V.
Neither one of these colors was achieved with stain.
So, it's best to see a sample before the whole floor is refinished, right?
---
Return to Refinish Wood Floors from Natural Wood Floor