30 Ivory, 30 TreeSap Toner, 30 Ebony Kragil Gray
by Jerald Adamsson
(Saint Paul, MN, US)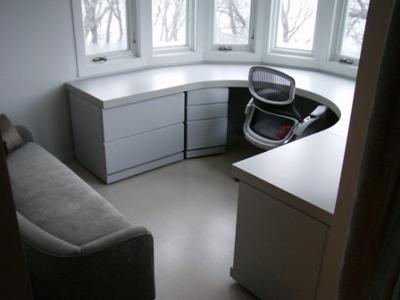 Adjacent Office
These homeowners went to visit their daughter in Thailand and came back with decorating ideas they had never had before!


And not just knick knacks and tapestries, either.
Total South East Asian theme for the master bedroom. Vertical grain Bamboo floors,
installed unfinished so that they and their decorator could get the color just so.
Bamboo flooring usually comes pre-finished, but this limits color choices to only to what the factory has to offer.
Another thing about bamboo flooring is that there are three basic constructions: vertical, horizontal, and strand-woven.
Only Bamboo flooring constructed vertically and horizontally are available unfinished.
Strand-woven is always prefinished.
Another reason this particular homeowner wanted unfinished Bamboo flooring was the square edges.
Prefinished anything has beveled edges and this homeowner wanted a floor that is flat and washable,
particularly in the bath area of the master suite.
Green interior decorators and designers are very big on Bamboo because it is renewable.
However, in considering green building materials, it is best practice to source locally. Bamboo, of course, comes a long distance to get to this market.
Also, Bamboo is highly engineered. It grows as a tube and is, therefore, staved and glued into workable material before it is milled. Very inefficient.
The flip side? Jobs are created in areas where they are desperately needed.
And just like wood, Bamboo can be refinished, as long as it is of the square-edged, finished-on-site variety.
As insurance, always choose Bamboo with the thickest wearlayer possible. This is the material above the joinery that gets sanded.
The thicker, the better, obviously. Green designers and decorators are also very keen on long life cycles. They refer to it as cradle-to-grave.
What they really prefer is cradle-to-cradle. In other words, recyclable. So, even though Bamboo flooring can be floated and glued. The most re-usable installations are nail down and click together.
Just for your environmental FYI.
Tell us what you think of the color?
Please tell us what you think!