1890 Farmhouse Antique Pine Floor... Surface Prep for Tung Oil
by Nicola Birch
(Woodstock IL)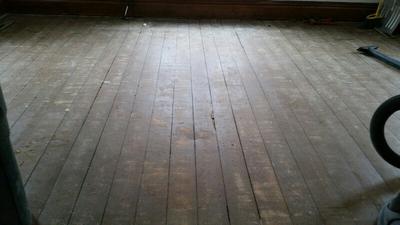 Under many layers of newer flooring we found the original pine floorboards, mostly in pretty good shape, but a lot of old paint, some sort of wash in other areas, and many boards are slightly crowned.


We want to use tung oil to finish and have read a lot of stuff with great before and after photos... but nobody is talking about how they got the old paint off before they did the actual tung oil, or wax, or whatever. I have read that 150 grit sandpaper is the thing but then I also read about using chemicals.
So as a newbie to old floors, little grasshopper seeks wisdom from the master on surface preparation. I have read a lot of good advice here and appreciate your generous sharing of knowledge.